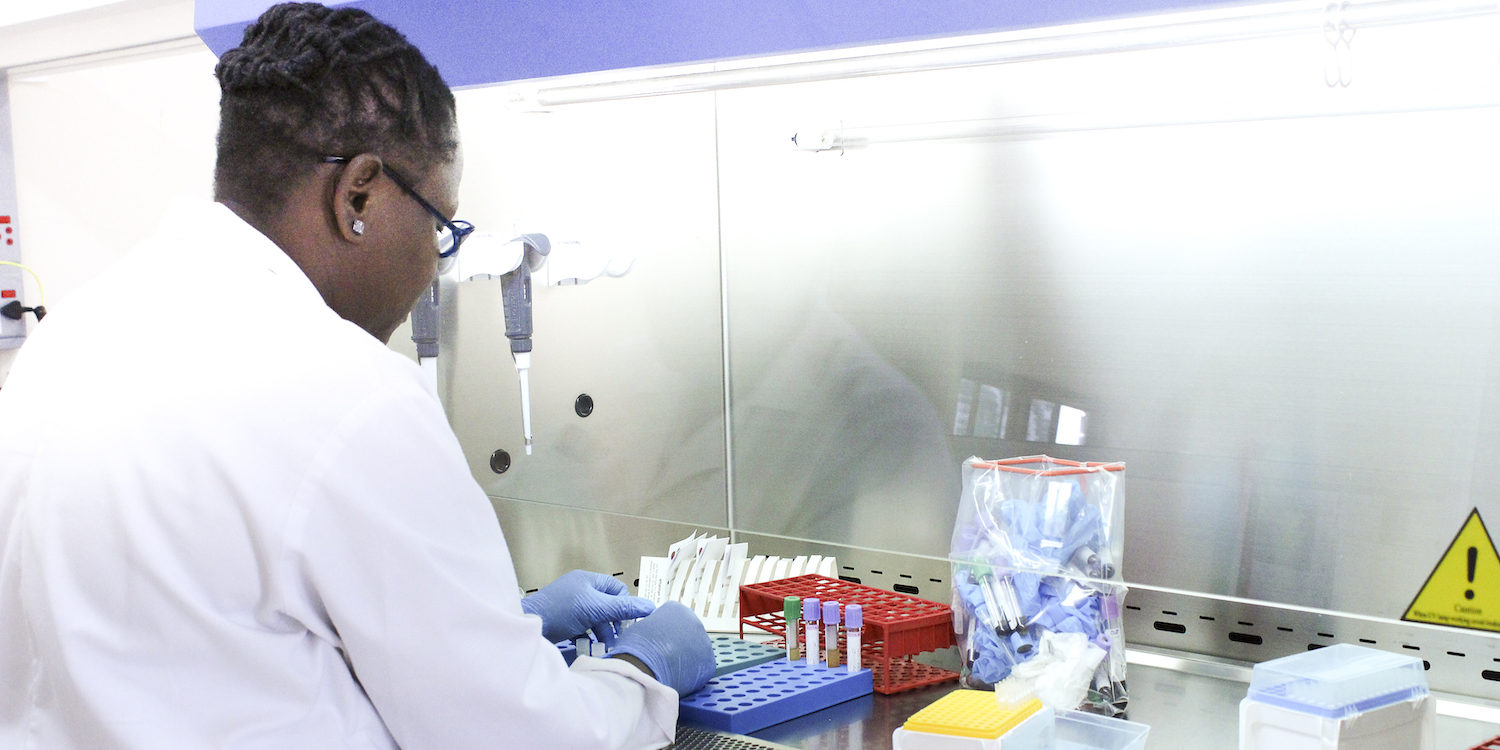 Infrastructure

Clinical Research infrastructure
Ndlovu Research Laboratory is a state-of-the-art laboratory equipped with clinical trial and research facility in rural Limpopo, South Africa in collaboration with world-class and reputable research institutions, academics and funders. The aim of NCG clinical research is to create value and contribute towards the greater good of society. Ndlovu Research Centre (NRC) comprises of two buildings known as NRC-1 and NRC-2. NRC-1 was developed to accommodate academic research program implementation. The primary focus was to conduct HIV treatment and prevention studies, aimed at investigating the epidemiology, pathogenesis and socio-scientific factors. NRC-1 facilities include a number of administrative offices, clinical, counselling and interviewing rooms, reception area, boardroom, secure filing room and convenient participants waiting area. 
Research Clinical
Over the years, the centre has grown and developed the capacity to conduct a wide spectrum of clinical research studies such a microbial and vaccine studies on HIV prevention. In 2017, NRC-2, a double story building, was officially opened in order to house more projects. Similar to NRC-1 but bigger in size, the ground floor of NRC-2 comprises of a number of administrative offices, clinical, counselling and interviewing rooms, reception area, boardroom, data management facilities, secure filing room and convenient participants waiting area. The second floor houses an ultramodern Diagnostic & Research Laboratory of approximately 500m². Our clinical research facilities are fully equipped to meet various clinical research and trials requirements. Both research buildings are wheelchair and stroller friendly for the convenience of our clinical trial participants. All research staff are fully ICH-GCP trained and perform research as per protocol requirements.
Our clinical research facility was designed with participant comfort in mind and to support high-level international clinical research and allow number of trials to be conducted concurrently.
The clinical research facility is solar powered and tries to reduce Ndlovu Care Group's carbon footprint, working to an improved environment.
Operational Clinical
Since 1994 Ndlovu Medical Centre (NMC) provides clinical services to the community we serve. NMC is a well-equipped Primary Health Care Centre with extended facilities like an Audiology Department, Primary Eye Care Unit, Cervical Cancer Screening, Diagnosis and Treatment Unit, a Digital X-Ray Department, an Institutional Pharmacy and a Day-admission unit. Academic research projects recruiting program patients make use of the clinic and its access to patients, like the ITREMA project. All employees are ICH-GCP trained.
Research Laboratory
Ndlovu Research a state-of-the-art laboratory is equipped with all basic laboratory equipment and three biosafety level-2 cabinets. Currently, the laboratory conducts rapid diagnostics including pregnancy tests, HIV tests, Hepatitis B surface antigen (HBsAg) tests and urine analysis, ARV druglevel tests and haematology and serology tests. The laboratory staff is certified to perform isolation of peripheral blood mononuclear cells (PBMCs). We also collaborate with a number of referral laboratories such as Bio-Analytical Research Corporation (BARC) and Toga laboratories to conduct testing techniques that are not available at our laboratory.
The laboratory is capable of storing large number of clinical samples at temperature ranges from 4° C to -154° C. All fridges and freezers are monitored by a Continuous Temperature Monitoring System (CTM) which records temperature in real-time. The laboratory has access to backup generators to ensure constant power supply in the event of power failure and is access controlled.
Ndlovu Research Centre is presently establishing a full Molecular biology unit to perform DNA sequencing, conventional PCR, real-time PCR and nested PCR. Considering our strong collaboration network and the new molecular biology unit, our research capacity and activities are going to expand tremendously.
Research Pharmacy
NRC Institutional and Research Pharmacy is fully licenced by the South African Pharmacy Council. The pharmacy has an access control system for authorized personnel only. The Pharmacy is equipped with 2-8° C Fridges, -20° and -80° C freezers and bio-safety level II cabinet and has a dedicated preparation area and counselling room. The Pharmacy has Continuous Temperature Monitoring system (CTM) which monitors the desired and set temperatures for each study's product. The Pharmacy has access to backup generators to ensure constant power supply in the event of power supply interruption. Both the Pharmacists are ICH-GCP trained